DOGS LOVE IT RAW
It's that simple.
Raw nutrition can transform your dog's life.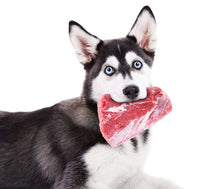 Dogs Are Carnivores
Their enthusiasm when they eat makes it clear they love raw. What the dogs can't tell you but our pack of customers will is that raw feeding can promote increased energy, a healthier coat, fewer skin problems and excellent weight control.
Benefits of Raw Dog Food
Watch your dog get excited about their food again! They may be telling us what food they prefer or taking their food drive to a whole new level! We've seen raw dog food provide benefits like better digestion, more energy, allergy relief, leaner, stronger muscles and healthy teeth and gums. You know your dog and how your dog feels better than anybody! You are the only one who can actually notice the benefits of better nutrition and you should be able to feed your dog a complete and balanced meal that began with human grade meats and ingredients.
Transitioning to Raw Feeding
Kibble may be the only thing you have ever known. Which is exactly where I was and the vast majority of other people who began their dog food journey in the kibble aisle. Kibble should not be the only option for you or your dogs. If an all-raw diet is not an option, adding our raw treats and toppers can be a great way to introduce your canine companion to raw feeding and supplement their nutrition. Raw feeding takes more work but we think it is well worth it! The proof is in your dogs! We suggest that you research transitioning to a raw diet and speak to your veterinarian with any concerns you may have. You need to do what is best for you and your pack, at whatever level of raw feeding you feel comfortable with.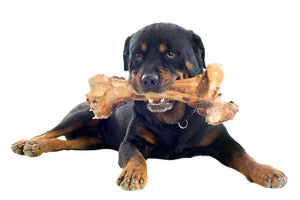 How to Get Raw Dog Food
From Key West to Pensacola
Our goal at Raw Dog Food FL is to provide you with quality raw dog food in a consistent, convenient and cost effective manner. With multiple options currently available, we are always looking to better serve you and will add new locations to our routes as demand grows. We welcome your feedback to better serve your delivery needs so please contact us!
"Great product, great service"

Elvy D.
"My dogs absolutely love the rolls we get from Raw Dog Food FL! Conveniently wrapped in 5 lbs rolls, feeding two large Akitas is a breeze. High quality raw dog food, all of my older Akita's skin problems have vanished. Will continue to buy from Raw Dog Food FL!"

Jill S.
"Winston's favorite food. Awesome fast delivery. I won't go anywhere else to get his food."

Steven E.